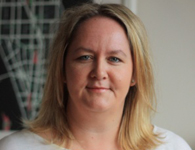 My first job was... an entertainer at a children's play centre. It still haunts me.
I have been greatly influenced in life by... my lovely family and friends. And "The West Wing". Best. Show. Ever.
When I'm not at work I spend time... err, watching TV and checking the EPG! I also love good restaurants, entertaining and going to the footy.

The last interesting book that I read was... "Grace: A Memoir" by Grace Coddington. Not a literary masterpiece, but a nice escape into the world of fashion.
At school, I was known for... drama, debating and driving a Datsun Bluebird.
My guiltiest pleasure is... Brokenwood Cricket Pitch Sauvignon Blanc…and the hot dog at el loco in Surry Hills.
My favourite movie of all time is... When Harry Met Sally. Nora Ephron is one of my idols.
I know it's not cool but I love... TVSN. The cosmetics shows have me transfixed.
One of my favourite series on STV is... Game of Thrones is sensational.
The person I most admire is... CJ Cregg from "The West Wing".
My friends say that I... can hold a conversation, host a dinner party and provide Foxtel technical support. Usually at the same time.
My hope for the future is that... STV finds its way into every Australian home…I become the White House Press Secretary…and the Eels win the Premiership so my Dad can relax.