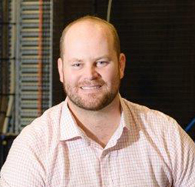 My first job was...Underwater ceramic technician (dishwasher) at the local Italian restaurant.
I've been greatly influenced in life by...My mum and dad. They never failed to make us laugh as kids, and have always wanted the best for my brother, sister and I.
When I'm not at work I spend time...Taking my dog to the park and throwing the tennis ball to her endlessly.
The last interesting book that I read was...The Secret Race: Inside the hidden world of the Tour de France.
At school, I was known for...My absolute obsession with cricket and rugby.
My guiltiest pleasure is...A sneaky punt with my beautiful fiancé on a Saturday.
My favourite movie of all time is...Star Wars (I'm a massive nerd)
I know its not cool but I love...Collecting sports memorabilia. It's not cool according to my missus.
One of my favourite series on STV is...Breaking Bad. Cannot get enough of this show. I've seen the whole series, and just keep on watching it over and over.
My friends say that I...Am really tall. Thanks for that, Einstein.
My hope for the future is that...The Wallabies win the Bledisloe, Rugby Championships, and World Cup.