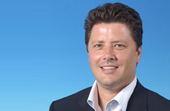 When I'm not at work I'm…. trying to teach my two girls how to play tennis, rather unsuccessfully though. The youngest pretends her racket is a mirror and she a beautiful princess. No interest in learning how to play a top spin backhand……

The person that most influenced my decisions in life when I was younger was….. my parents are the obvious choice, but I think my 5 year older and only brother played an important part as well. Big brother did watch over me.

The last interesting book that I read was…. "Open; An autobiography" by Andre Agassi, one of the most passionately anti sports books ever written by a superstar athlete.

My first job was….. flipping burgers at my local tennis club. Also the first and last time I got sacked.

My guiltiest pleasure is….. watching free to air TV… just kidding .. I would never do that.

At school, I was known for….. never doing my homework. Got through it though.

My favourite movie of all time is…. The Deer Hunter – "MAU MAU"!

I know it's not cool but I like….. Baileys but with a cube of ice though (makes it a little cooler)

The person I most admire is…… leaving aside the likes of Mandela and Ghandi I would say Lance Armstrong. Winning the Tour de France 7 times against all odds is pretty incredible.

My friends say that I…. have the best job in the world.

My hope for the future is…. my kids grow up to be happy responsible global citizens. A bit cheesy but true.