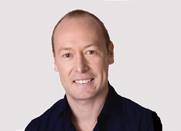 My first job was... delivering medicines from the chemist in a brown paper bag on my pushbike for old people at home……..mum, what were you thinking!
I have been greatly influenced in life by... my children – whilst very young they remind me to approach life with passion, energy and enjoyment, without judgement and to keep things in perspective.
When I'm not at work I spend time... catching up with friends and family, playing and watching sport and generally trying to keep two toddlers from destroying our house.

The last interesting book that I read was... "The Lighthouse Keepers Lunch"….books for my 3 year old are the only ones I have time to read these days.
At school, I was known for... having a good balance between academic, sport and shenanigans.
My guiltiest pleasure is... kicking back on the couch watching sport….without toddlers.
My favourite movie of all time is... any movie based on true stories…….. Munich, Argo, Kings Speech, Moneyball etc………….and Top Gun – teenage aspirations!
One of my favourite series on STV is... Geordie Shore……since working at MTV I must admit I've become slightly addicted.
The person I most admire is... no single person….my wife for her devotion to family, brother for his determination and success…..and grandma for being the oldest identical twin in Australia!
My friends say that I... love a party!
My hope for the future is that... I get invited on a work junket to the FIFA World Cup in Brazil.