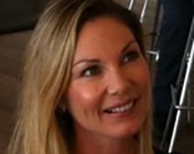 My first job was...My first 'real' job was in an advertising agency in Perth – great perks as our major client was Mazzucchelli Jewellers, the first to introduce Swatch Watches into WA – I became there swatch watch test drive girl!!
At school, I was known for...Sport – I competed state wide in tennis and little athletics (high jumps specifically) – hard to believe given my height.
The TV show I can't miss is...That's a hard one - I appreciate and love so many – they range from House Of Cards, Wentworth (my favourites at the moment), Walking Dead, Breaking Bad, Sons Of Anarchy, Bates Motel, Fargo, Offspring and even Real Housewives…
My secret guilty pleasure is...Staying up late catching up on all my favourite TV shows – I can't wait until the whole household is in bed and it's just ME.. My version of uninterrupted viewing!!
I know it's not cool but I love...I hate talking on the phone when I'm at home and avoid all calls (now I've admitted that no-one will ever bother to call me again….hmmm)
When I'm not working I...I'd like to say watch TV (but I get to do that at work)!! So I try and spend as much time with my husband and boys!! We love to hike which we try and do regularly - our favourite is The Spit to Manly walk – the boys truly enjoy it – a great way to spend a Sunday, quality family time….
My friends say that I...I never answer my phone
The new TV show I'd love to commission is...Clever, gritty and emotive.