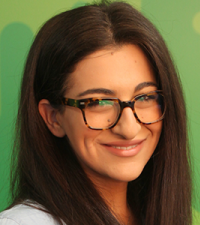 My current job is.. Junior Producer at Nickelodeon
My first job was.. Terrorising my siblings and neighbourhood kids by making them endure 'Ellen the magnificifent 'magic shows ( I really wanted to be a magician!). There was a 10c cover fee and my mum received a few stern words from neighbourhood parents. Was a great business plan for a 10 year old.
At school I was known for.. being the class clown. Also utilising my DJ skills (or lack thereof) at all of the school dances.
The TV show I can't miss is.. UnReal. An insanely true depiction of what it is like to work on a reality tv series..
My secret guilty pleasure is.. Keeping up with the Kardashians. Although I won't be adding a 'K' to the start of my name anytime soon.
It's not cool but .. I still have access to my first ever hotmail account set up by 12 year old me. All business enquires can be sent to cheeky_choc_poodle@hotmail.com
Friends say I.. talk way too much or too fast. I don't know which one is more false..
The new TV show I'd like to commission is.. my list is endless! Although there is something rather intriguing about a world without the internet or a toddler version of survivour..
The thing I most love about our industry is.. how much we have the ability to directly influence the kids of today who's imaginations are running wilder than ever before.