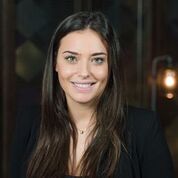 My current job is... Operations & Events Manager at ASTRA
My first job was... Working at the local pub – learning that I am a terrible waitress but a pretty good bar maid!
At school I was known for… talking too much.
The TV show I can't miss is… The Night Manager and VEEP.
My secret guilty pleasure is… Overindulging in cheese and wine – although it's not much of a secret!
It's not cool but…I get changed into my pyjamas as soon as I get home each day – complete with panda slipper socks.
Friends say I…should learn more words to the song before I try and sing along.
The new TV show I'd like to commission is…any kind of sociological documentary – Louis Theroux is a huge hero of mine!
The thing I most love about our industry is…being surrounded by incredibly talented and creative individuals. Working at ASTRA we are exposed to inspirational people throughout the entire subscription television industry and it is extremely motivating.