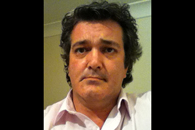 The person that most influenced my decisions in life when I was younger was... no single person but a group of friends, parents and possibly Che Guevara or Hunter S Thompson. Ok, my wife.
The last interesting book that I read was... 'The Best American Essays' by Christopher Hitchens was the last, but by far the most interesting book I ever read was 'A Short History Of Nearly Everything' by Bill Bryson.
My first job was... a dustbin-man in London in the school holidays, made a fortune.
At school, I was known for... being cleverer than I looked.
When I'm not at work I spend my time… nothing special – friends, family, books, films and occasional golf.
My favourite movie of all time is... impossible to say. Loved seeing Casablanca again on Fox Classics the other day but missed The Godfather I & II, throw in Jean de Florette / Manon de Source and you have a top 5.
I know it's not cool but I love... I could be wrong but I thought that being cool isn't cool anymore, so I think I'm in the clear.
One of my favourite series on STV is... Justified, The Walking Dead, Newsroom, Deadwood, Game Of Thrones. There's another top 5 but no favourite I'm afraid.
The person I most admire is... there's the obvious ones, Billy Connolly and Nelson Mandela, a bunch of writers and film directors, but it's probably a friend of mine back in London who somehow manages to live his life by his own principles.
My friends say that I... don't know so perhaps it's that I don't listen…
My hope for the future is that... Couldn't it all just be a bit simpler?