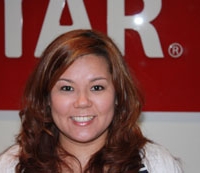 When I'm not at work I spend my time… with my partner and our dogs.
The person that most influenced my decisions in life when I was younger was… my mum, as a single mum she sacrificed a lot and worked hard to make sure my brother and I had what we needed.
The last interesting book that I read was… George R.R. Martin's saga, A Song of Ice and Fire. Otherwise known as Game of Thrones. The TV series is awesome too.
My first job was… making soft serve cones and hot dogs at Wendy's after school.
My guiltiest pleasure is… spending a whole day on the couch in front of the TV.
At school, I was known for… being a bit of a "goody two shoes."
My favourite movie of all time is… Aliens, one of the best sequels ever made.
I know it's not cool but I love… singing with Whitney Houston really loudly in the car, it's a form of therapy for me.
One of my favourite series on STV is… Kimora: Life in the Fab Lane on Style. If only I could have that much Fabulosity.
The person I most admire is… an impossible question. There are so many people I admire and wish I could be like, people I know well and people I wish I knew better, that to single one person out would do everyone else an injustice.
My friends say that I am… a bit of a dag.
My hope for the future is that… interest rates don't rise.