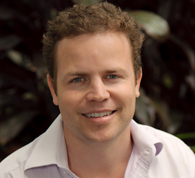 My first job was... cleaning up chook manure at an egg farm for weekend pocket money as a teen.
I have been greatly influenced in life by... the late David Fordham. I've been very close friends with his son Simon from an early age. 'Fordo' inspired me to work in sports media.
When I'm not at work I spend time... with my wife and children. We have two boys – Xavier and Riley – and another baby on the way. They keep us on our toes.

The last interesting book that I read was... The Happiest Refuge by Anh Do
At school, I was known for... being from 'the mountain'. I grew up at Mt Glorious, and went to Marist Ashgrove in Brisbane.
My guiltiest pleasure is... drinking milk through a Tim Tam
My favourite movie of all time is... Stand and Deliver
I know it's not cool but I love... Classical music sometimes
One of my favourite series on STV is... 30 for 30 on ESPN. Amazing sports docos!
The person I most admire is... Nelson Mandela
My friends say that I... can be a bit loud when watching sport.
My hope for the future is that... children have measured exposure to technology and get grass between their toes again.