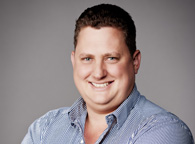 My first job was... pumping gas
I have been greatly influenced in life by... anyone who succeeded against the odds. Innovative thinking and achievement always follows the road less travelled.
When I'm not at work I spend time... building things. I need a project to keep me busy. Idle hands…..

The last interesting book that I read was... John Craven's autobiography. He was the chief naval scientist for the US navy during the cold war.
At school, I was known for... bringing weird lunches. Now its all the rage. Go figure.
My guiltiest pleasure is... fishing with friends and no phone coverage.
My favourite movie of all time is... The Hunt for Red October.
I know it's not cool but I love... to watch White Christmas with Bing Crosby and Danny Kaye every Christmas eve. Its not Christmas until I watch it.
One of my favourite series on STV is... I love modern family (along with everyone else). An old chestnut was "this old house".
The person I most admire is... my little secret.
My friends say that I... am incapable of moderation. Go hard or go home!
My hope for the future is that... we all have more fun. Oh and that the wallabies take their rightful place at the top of world Rugby again. If I am feeling really lucky the Waratah's win the Super 15 or whatever it is called by then.