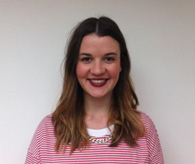 My first job was... A Woolies cashier. I only lasted 6 months.
I have been greatly influenced in life by... My Mum, Dad, older sister, and older brother. They are all incredibly intelligent, down to earth, hard working, kind, funny, and successful people. They always have good advice for me.
When I'm not at work I spend time... Eating, mainly. I love trying out new restaurants and cafes.

The last interesting book that I read was... The Rosie Project, by Graeme Simsion.
At school, I was known for... Being a bit of a chatterbox in class. However, I also shaved my head at a school assembly for Leukaemia fundraising in year 10. I'd like to think I'm remembered for the latter.
My guiltiest pleasure is... Online shopping. It's a bit of an unhealthy addiction of mine.
My favourite movie of all time is...Dirty Dancing. "I carried a Watermelon?!"
One of my favourite series on STV is... This would be a great opportunity to promote MTV, but I have to be honest... Game of Thrones is my favourite. How could it not be? I also love a bit of Louis Theroux now and again, too.
The person I most admire is... Don't make me choose just the one! My boyfriend is the most kind-hearted, genuine, magnetic, and entertaining person I know; my family for the aforementioned reasons; and my friends for making me laugh, and for calling me out when I'm wrong.
My friends say that I...Love tassels, and velvet (separately, of course) a little bit too much in the year 2013. Also that I'm organised, and opinionated.
My hope for the future is that... Just happiness. For everyone.