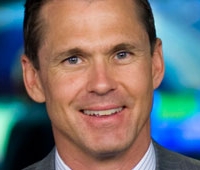 When I'm not at work I spend my time… with my family (and watching sport when my family allows me).

The person who most influenced my decisions in life when I was younger was… my father and later two news directors I worked under in radio – Rod Tiley in Brisbane and Glenn Daniel in Sydney.

The last interesting book that I read was… The Kindly Ones – hard yakka and very confronting, but I got there.

My first job was… harvesting veldt grass with my father. My first job in media was with GTS BKN Television in Port Pirie, South Australia.

My guiltiest pleasure is… good wine.

At school, I was known for… having a go at everything and never being the best at anything.

My favourite movie of all time is… Mississippi Burning or The Usual Suspects.

I know it's not cool but I love… "The Style Council."

The person I most admire is… my wife (groan if you must.. I would).

My friends say that I… am a dag because I love "The Style Council."

My hope for the future is… that my kids grow up happy and healthy.