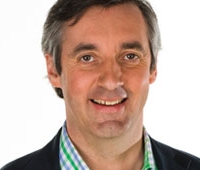 When I'm not at work I spend my time… With my dogs, wife and daughter, but not enough.

The person that most influenced my decisions in life when I was younger was… Norman Parkinson, one of the twentieth century's best known British fashion photographers, who taught me to focus, think outside the square and never give up.

The last interesting book that I read was… The Lost Symbol, Dan Brown.

My first job was… Working in a brewery.

My guiltiest pleasure is… Really really good red wine and my iPad.

At school, I was known for… Never being caught at doing what I shouldn't have been doing.

My favourite movie of all time is… High Society.

I know it's not cool but I love… Embarrassing my 14 year old daughter.

The person I most admire is… Mother Teresa and my wife (but she's no saint).

My friends say that I… Should never wear matching socks and I never will.

My hope for the future is that… We all slow down and enjoy the moments and not just the milestones.