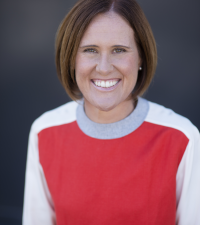 The person that most influenced my decisions in life when I was younger was... my mum. I was lucky enough that Marg was at home every afternoon and ready for a chat at the kitchen table. Marg spent most of her time driving my sister and I around Sydney in her Holden Commodore. Marg made sure that we knew that girls could do anything!
The last interesting book that I read was... The Selby In Your Place (not a lot of text therefore not sure if this is classified as looking or reading) – it combines real stories of people and their interiors. Lovely.
My first job was... performing as a possum at Marion Street Children's Theatre school holiday pantomimes.
My guiltiest pleasure is... Maggie Beer burnt fig, honeycomb and caramel ice cream.
At school, I was known for... my remarkable liturgical dancing.
When I'm not at work I spend my time… with my three kids, either constructing pirate ships or some fantastic craft creation involving lots of sticky tape, glue and origami paper.
My favourite movie of all time is... the right film at the right time. At one point in my life it was The Sound of Music, at another it was Reality Bites. And when I saw Garden State it was – at that time – my favourite movie of all time. I loved that soundtrack.
I know it's not cool but I love... Rod Stewart!
One of my favourite series on STV is... The Soup. 1 x cringe and 1 x laugh-out-loud moment is guaranteed every week.
The person I most admire is... my amazing husband.
My friends say that I am... really lucky to have met my husband.
My hope for the future is that... more time is spent on community service and that public art projects continue to be funded.