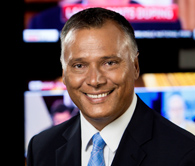 I have been greatly influenced in life by... people who persevere through adversity. I read James Baldwin's 'Go Tell it on the Mountain' when I was young and it changed my life. I'm a huge non-fiction reader as well, anything on politics, history or science and I'm hooked.
The last interesting book that I read was... Edward O Wilson's 'The Social Conquest of Earth', absolutely essential for anyone who wants to understand who we are and how we got here.
My first job was... selling fruit door to door out of the back of a truck when I was about 8 or 9 years old.
At school, I was known for... I moved around so much I wasn't really known! My family was very itinerant I changed schools about 10 times before I was in my teens.
My guiltiest pleasure is... not really guilty about it- I love British cop shows.
When I'm not at work I spend my time… reading and spending time with my family. I especially love getting to my sons sports events.
My favourite movie of all time is... can't split Godfather 2 and Raging Bull. Thin Red Line is very special too.
I know it's not cool but I love... going to movies by myself.
One of my favourite series on STV is... I loved the British police series 'Luther'.
The person I most admire is... my wife Tracey. Smart, loving, kind and she brings such colour and joy into our lives.
My friends say that I... should relax more and not think so much.
My hope for the future is that... my children are happy, healthy, safe and content.