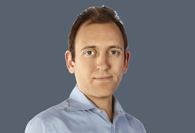 The person that most influenced my decisions in life when I was younger was... probably dad. He taught me independence from a very young age and had a very logical way of dealing with conflict.
The last interesting book that I read was... Atlas Shrugged by Ayn Rand. It's a 1950s philosophical novel about individualism and non-conformity.
My first job was... I was 10 years old and delivered the Mosman Daily on a Thursday morning before school. Dad made me a little cart to carry around the stacks. It took about 3 hours and I was paid $12 per week. I spent the money on Coke Slurpies from 7-11.
At school, I was known for... weather forecasting. My enthusiasm for snowboarding necessitated weather knowledge and by year 12 I was already known by all as the weatherman.
When I'm not at work I spend my time… loving life. My interests are varied from dining out, to playing with my son to adventure racing. I even don't mind visiting art exhibitions and doing IQ tests but for some reason I can't get into Shakespearian plays.
My favourite movie of all time is... The Godfather Part 1. This movie has no flaws. The acting, script, story, characterisation, everything is perfect. Top five are The Departed, The Dark Knight, One Flew over the Cuckoos Nest and The Empire Strikes Back.
I know it's not cool but I love... doing online IQ tests and playing board games. I also like going in mud runs.
One of my favourite series on STV is... Seconds from Disaster on National Geographic Channel-- drives my wife completely mad but I IQ every episode.
The person I most admire is... biologist Richard Dawkins. He is so articulate and logical and shows true courage. How many people can stand in front of 2 billion people and tell them they believe in the tooth fairy?
My friends say that I... have big googly eyes!
My hope for the future is that... the world is rid of superstition and ignorance, with people relying on the strength of their own mind for empowerment.