By Christmas 1995 the main subscription television platforms were on air and local productions were underway.
The early years were also characterised by battles over policy handbrakes designed to protect incumbent broadcasters. In 1997 James Packer told the ASTRA Conference that subscription television "was the devil incarnate on Mondays and Wednesdays, and a not to be missed opportunity on Tuesdays and Thursdays."
Foxtel, later to become Australia's largest subscription platform, began broadcasting at 7.00pm on 23 October 1995. For $39.95 per month viewers could watch 20 channels including Arena, Discovery, Nickelodeon and fx.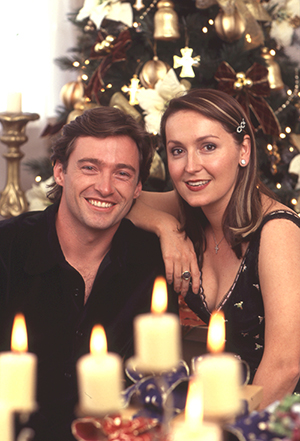 Hugh Jackman & Melissa Hoyer in an early edition of Fox Fashion
Early programs included Fox Fashion hosted by a 27 year-old Hugh Jackman, and Sky News read from Frenchs Forest studios by Juanita Phillips. The first Foxtel CEOs were Mark Booth and Tom Mockridge.
The industry grew to one million viewers by 1997, but growth was hard to achieve because of protections lavished on free-to-air networks.
Advertising was not permitted until 1997, so it was not until then that MCN, the industry's first ad sales company, was born.
The new anti-siphoning scheme, which denied subscription operators the right to bid for many popular sports, was an ever bigger headache for the industry. FANSS, the precursor to ASTRA, labelled the scheme "incompatible with the principles of good government and sound microeconomic management". The policy led to a mammoth legal battle between rival rugby league competitions, culminating in 1997 when Super League operated in competition with the Australian Rugby League before a truce was brokered.
The industry's representative body, FANNS, represented 40 members including eight television licencees such as Australis, Foxtel and East Coast Television. The board, whose members included a former NSW Premier, Barrie Unsworth, were to develop Codes of Practice, manage rules regulating Australian drama, and planning amalgamation with a sister organisation, the Confederation of Australian Satellite Television, which led to the birth of ASTRA.