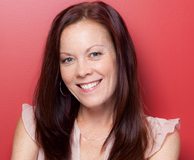 The person that most influenced my decisions in life when I was younger was... my wonderful Mum, Lynda. She was an absolute inspiration – creative, funny, a logistical genius, disciplined, feminine, forgiving, giving, super clever and a high achiever, but most of all she was a juggler extraordinaire and had a heart as big as Texas – everyone just loved her. I am her greatest fan and she is a living example of what I aspire to be every day. Gawd luv ya, Lyndy Lou!
The last interesting book that I read was... "Thinque Funky: Upgrade Your Thinking" by thought leader and TEDster, Anders Sorman-Nilsson. My favourite line: "About the only constant in the world is that my cat, Finnegan, still thinks like a dog"…it's so worth the read – expands your mind and forces you to accept that change is good.
My first job was... tap dancing teacher....aged 13. What a nightmare.
My guiltiest pleasure is... a long, steaming hot bath with bubbles (and bubbly!).
At school, I was known for... being "one of them ballet chicks"…sigh. Sad but true.
When I'm not at work I spend my time… Ummm…to be completely honest…at the moment, when I'm not working…I'm working…LOL! But seriously, I just love lying on the beach reading a book and feeling a part of the rest of the world. As a virgo, it's important for me to remember that.
My favourite movie of all time is... Ferris Beuller's Day Off…it's still gold.
I know it's not cool but I love... Pottery and decoupage...joking! (No offense to arty/crafty types) Actually...I guess its probably not so cool that I love playing Little Big Planet on PS3 with my daughter...and losing...but those little goobers are so damn cute!
One of my favourite series on STV is... The Real Housewives of Beverly Hills….I stumbled across it one night…who knew the life of the rich was so hilarious. All those boob, lip, cheek and chin implants make me cry with laughter.
The person I most admire is... an amazing lady named Sally Brady whom I met when I was 22 and working for the Seven Network, who taught me so much about creating and delivering great telly. And also…that no matter how much you try to be perfect you won't be so don't ever agree to be anyone's mentor – all you can teach them is NOT to do it the way you did! So true…
My hope for the future is that... I stop digging and start climbing - as high as I believe I can – so I feel that sense of achievement and satisfaction from my work.