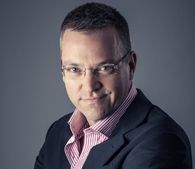 My first job was...I'll admit to having spent time detailing rental cars, working on a fruit barrow and being a kitchen hand, but my first meaningful full time job was working as a marketing assistant at the Australian Securities Exchange. I was 21 years old and working on Bond Street in the city, so it was pretty good fun.
I have been greatly influenced in life by... My father. Leaving school, he said I should get my qualifications, build a career and stick to the blue chip companies. It was pretty sound advice.
When I'm not at work I spend time... with my family – Simone & I have 3 kids - reading non-fiction books but particularly military history and watching as much television as I can.

The last interesting book that I read was... Hemingway's Boat, by Paul Hendrickson, a biography that depicts the last 30 years of Hemingway's extraordinary life, revolving around his beloved boat – Pillar.
At school, I was known for... Being a proud member of the St Aloysius U16B rugby team in our epic clashes against Waverley College. And once getting over 100% in a history test (true story).
My guiltiest pleasure is... John Denver
My favourite movie of all time is...One of my absolute favourites is Wall Street. And the Deer Hunter...and....
One of my favourite series on STV is... Selling Houses Australia. Who doesn't love watching Andrew Winter.
The person I most admire is... Winston Churchill.
My friends say that I...AM Loyal
My hope for the future is that... The people close to me are happy.