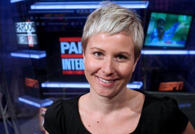 My first job was... working for Animal Planet in London. The first event I ever worked on was promoting the Meerkat Manor series at London Zoo's meerkat enclosure. After the event ended, I was the only person left in the Zoo and it was getting dark. It was quite eerie but I thought it was the coolest thing – unleashed in the Zoo with lions roaring in the middle of Regents Park in London!
I have been greatly influenced in life by... my brother and sister. As the youngest kid by 12 years, they've taught me some valuable lessons and kept me in line. They're also incredibly supportive and their advice always makes sense.
When I'm not at work I spend time... I spend my time ideally travelling somewhere I've never been before. My boyfriend and I recently did a road trip around South Island, New Zealand and it was unreal! Day to day, I enjoy watching a new film, catching up with friends and trying out new breakfast spots – long, lazy weekend breakfasts over a newspaper or magazine are the ultimate.

The last interesting book that I read was... Andre Agassi's OPEN and Anthony Kiedis's Scar Tissue. Both brilliant. I prefer non-fiction and autobiographies in particular. Next on my list is Long Walk to Freedom by Nelson Mandela which, as a South African, is way overdue.
At school, I was known for... playing a 'Hairy Ishmaelite' in our school's rendition of the musical Joseph and the Amazing Technicolour Dreamcoat. My friends still laugh about it. It's scarred me for life.
My guiltiest pleasure is... reading UK's Daily Mail Showbiz app when I get home from work. It's so trashy but it's a great way to unwind – reading all the ridiculous celeb gossip!
My favourite movie of all time is... Life Is Beautiful. There are so many favourites but this one really tugged at the heart strings.
I know it's not cool but I love... staying in on a Saturday night, watching a movie and going to bed early!
One of my favourite series on STV is... Selling Houses Australia. I love property shows – Grand Designs is another favourite.
The person I most admire is... my mom. She has made many sacrifices to give us the best opportunities. She always looks for the best in people and is a very positive person. She is also the most reliable person in the world!
My friends say that I... I should move back to Cape Town as Skype and facebook friendships just aren't the same.
My hope for the future is that... we can develop technologies that allow us to exist without terrible environmental consequences and that everyone will learn to live in harmony with the planet. Too many ecosystems are being abused and it can't end well.