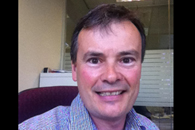 The person that most influenced my decisions in life when I was younger was... I came from a family of seven kids and it was hard not to be influenced by the older siblings in the family.
The last interesting book that I read was... Tobruk by Peter Fitzsimmons – I love history around both World Wars – such a tragic period.
My first job was... helping out my father, who was a Stock and Station Agent in the Bendigo Saleyards, after finishing high school.
At school, I was known for... not hard work and attention to study. I was an average student but really enjoyed my school years.
When I'm not at work I spend my time… mostly with my family driving two teenage daughters around as the family taxi. I also love watching my Richmond Tigers and of course following the races.
My favourite movie of all time is... Gallipoli – just a brilliant movie.
I know it's not cool but I love... growing tomatoes. It has become an annual obsession over the past few summers and a source of great amusement to my family.
One of my favourite series on STV is... Breaking Bad, great show!
The person I most admire is... no single person, I tend to take inspiration from a range of people both famous and not, and how they conduct themselves in difficult situations.
My friends say that I... am the worst person to get tips on horses from, and that I should stop being so optimistic about the Tigers.
My hope for the future is that... the next generations are able to enjoy the great opportunities that we as Australians have enjoyed for so long.